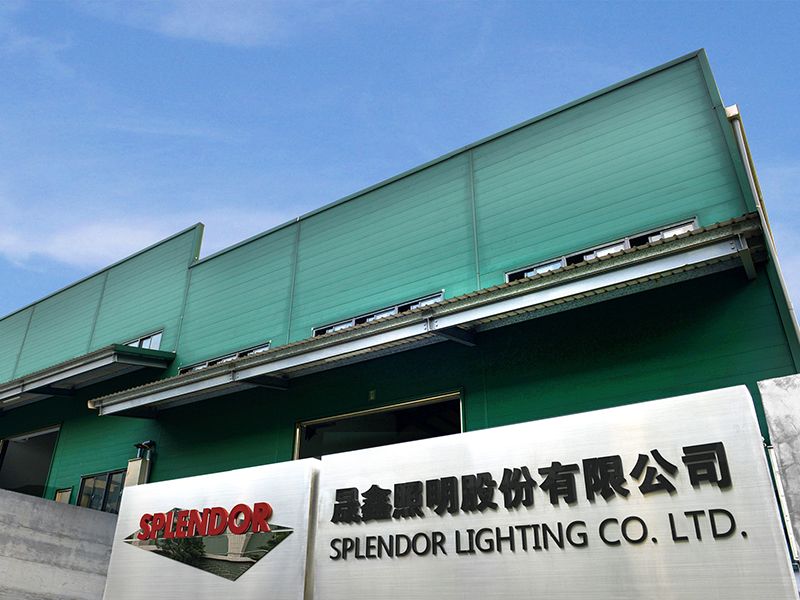 About Us
Splendor Lighting Co., Ltd, established in 2002, is a professional ISO9001:2015 OEM/ODM lighting fixture manufacturing and design company. With 40-year of experience in lighting fixture design and manufacturing, we can truly point out the issue which might happen in installation or in maintenance in the future before we start to customize the lighting fixtures. To perfect the shapes of the lighting fixtures, we house TRUMPF-laser cutting; PRIMAPOWER-punching; SAFAN DARLEY- automatic bending systems.
---
In order to manufacture more accurate lighting fixtures which are both close to designer's idea and meet customer's needs, we purchased the premium professional equipment; we implement a strict quality control system; we coordinate with some national companies, like OSRAM / PHILIPS / Vossloh-Schwabe / LUTRON, etc.

Our company is located in Taoyuan, Taiwan. Not only can we effectively and strictly control our quality, but we also can rapidly show the digital and print graphics and produce the first proto sample for future lighting fixture manufacturing and customization.
Why Choose Us
With over 30 years of experience in lighting fixture design and manufacturing, we are capable of rapidly and accurately offering the structure of the design of the lighting fixtures. Moreover, with solid experience in lighting engineering, we have thoughtful consideration methods of installation and maintenance. And then we quickly produce the exact first prototype sample for the customization. Besides, we house the advanced precision machines in our facilities-TRUMPF laser cutting machine, which can rapidly and precisely laser cut and drill any kind of the metal material. That will increase the accurate rate of producing the lighting fixtures. Second, we have PRIMA POWER the punch machine, which can accurately punch the coated lighting fixtures or components without wasting or harming the material. Third, we have SafanDarley automatic bending systems, which can exactly bend the shapes of the lighting fixtures. Fourth, we have spot welding machine & argon welding equipment, which can join and enforce the structure of the lighting fixtures. These are all helping us to increase the high yield rate and massive production accurately.

Our indoor and outdoor lighting fixtures and customized lighting fixtures are valued by the designers, architects, engineers and contractors for their quality.
Now, our lighting fixtures are applied in the plants of the high-tech companies (including clean rooms), high-end commercial buildings, luxury residential projects, public spaces, sports areas, etc.
Combining talents, specialistic techniques, premium precision equipment and strict quality control, we are expecting to bring the high-performance lighting fixtures and great service to all of our buyers.
Equipment
In order to present accuracy, superior quality and dimensional stability in our lighting fixtures, we install some excellent precise machines to make sure we can totally increase our capacity of productivity efficiently.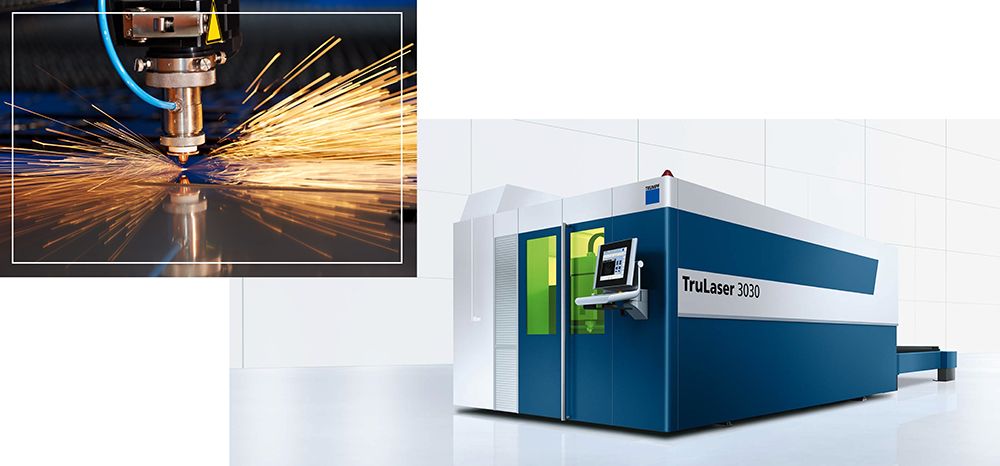 TRUMPF Laser Cutting
The TruLaser 3030 laser cutting machine with CO2 lasers presents superior performance with cutting quality that is second to none. The TruFlow laser, which is reliable and precise, will create extremely smooth cutting edges which normally do not require post-processing. With the TRUMPF 3030 laser cutting machine, we can achieve perfect, micro-burr-free cutting metal material, even create small prefect contours in thick mild metal, thus we can accomplish extremely smooth and exquisite cutting edges in all of our lighting fixtures.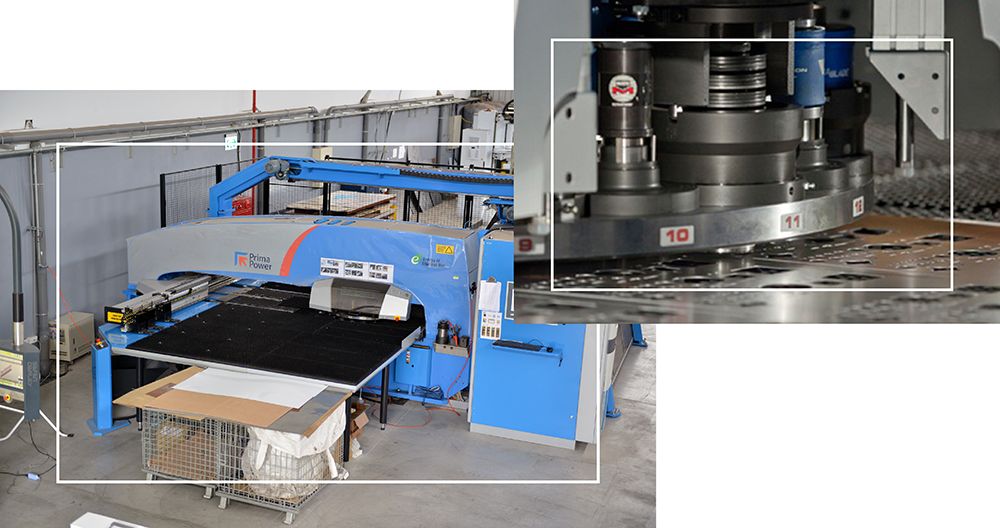 Prima Power Auto Punching Machine
Prima Power punching machine with outstanding accuracy and productivity combines energy-efficiency and a high speed of operation. It not only use numerically controlled and servo-electric axes, but it also use vertically moving brushes to prevent each material from scratching. It presents superior energy-saving and shows the low maintenance requirement. There are helpful and perfect for providing the a productive and competitive schedule of light fixture manufacturing.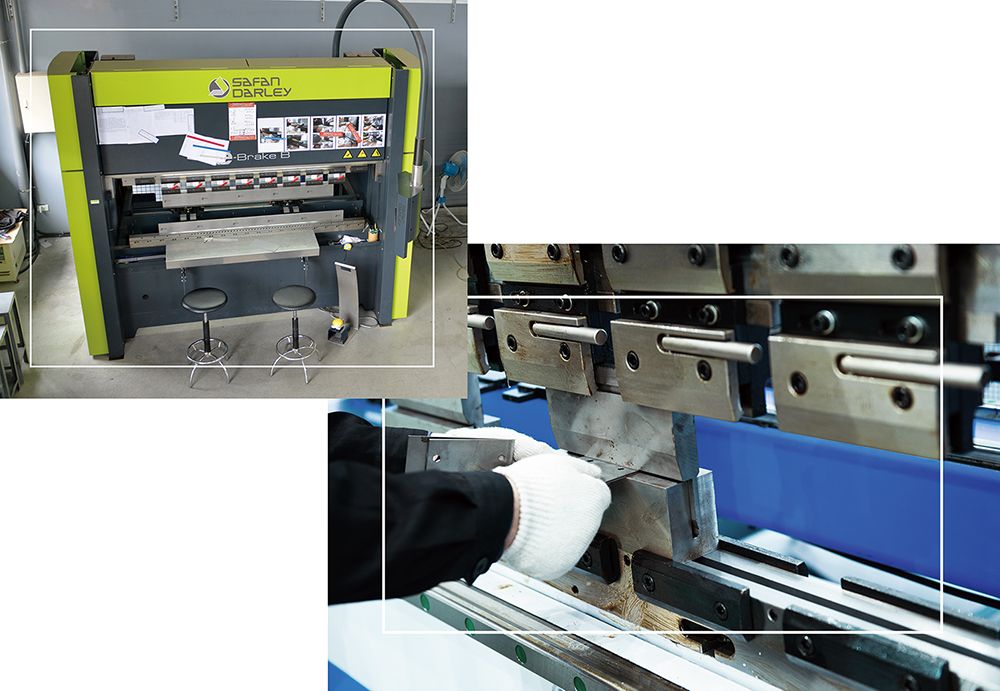 Safan Darley Automatic Bending Machine
SafanDarley E-Brake bending machine offers the fastest bending cycle, biggest energy and CO2 reduction, completely electrically and without any harmful oil for the environmental.
Partners
Our Services
ODM and OEM Lighting Fixture Manufacturing Service
Splendor Lighting is an experienced ODM and OEM lighting fixture manufacturer which is located in Taiwan. For decades, we have been manufacturing thousands of ODM commercial linear LED lighting, ODM indoor LED customized linear lighting, ODM bright white ceiling lighting, ODM custom LED louver lighting, ODM LED germicidal lighting, ODM customized low-glare LED lighting, ODM LED troffer, ODM LED panel lighting, ODM custom LED cleanroom lighting, ODM high lumen LED lighting, ODM high efficacy LED lighting, OEM commercial LED ceiling lighting, OEM commercial LED linear lighting, OEM LED white panel lighting, OEM low-glare LED lighting, OEM indoor LED linear lighting, OEM dimmable LED ceiling lighting, etc. All lighting fixtures are designed and manufactured in Taiwan. If you have any inquiries, please feel free to fill below inquiry form. We will reply you within 24 hours (working day).
Custom LED Lighting Fixture Service
For architects, interior designers, clients and for many lighting projects, finding and cooperating with a quality custom lighting fixture factory is crucial. Lighting is one of essential factors to complete a whole building. If you are interested in our custom LED lighting fixture service, please visit our website and find Front Page/Company/Custom Lighting Fixture Service. Or you can send us inquiry directly. We will be happy to offer lighting solutions for you.
Design and manufacturing quality LED lighting fixtures
Customers can find LED ceiling lighting, LED linear lighting, LED system lighting, specific functional LED lighting on our website or in our catalogue.
Sales Assistance
We help our clients to present the details of LED lighting fixtures or lighting engineering to buyers, which includes indicating the planning of lighting engineering, the functionality and features of the lighting fixtures, and the advantage of using the smart lighting control system, etc.
Illuminance calculating
We assistant to design for optimizing the luminous environmen and bring a visual comfort working space or living space for all our clients.
Lighting Engineering and Smart Lighting Control Service
These service are only available in Taiwan.
˙Planning of lighting engineering program
Splendor Lighting is capable of offering all of processes of lighting engineering, which starts from lighting design, design and manufacturing of lighting fixtures as well as coupled with smart lighting control system. We have talents and sources to bring our customers a more convenient, efficiency, and perfect lighting solution.

˙Planning of smart lighting control system
A thoughtful plan of smart lighting control system not only can deliver a soft illumination in any space, but it also can save more electricity expenses effectively. Splendor Lighting is able to bring our customer an appropriate planning of smart lighting control system.
Certificates

Gallery